Technical Translation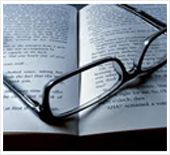 Product documentations, guides and manuals are valuable component of what your business successfully provides, assisting your customers to overcome any technical issues, which may impinge on their ability to use your products. To make the most of this opportunity, your company has invested in producing high quality documentation.
For this reason, your technical translation reflects the same amount of care and attention that were invested in writing the original documents.
If you need to translate Manuals, User Guides, Online Help or Training Materials, Pharma-Med delivers quality service you can rely on.
Pharma-Med works closely with all clients to ensure that translations are 100% accurate and exceed expectations.
Pharma-Med services ensure that your documentations are relayed professionally and in compliance with international standards and regulations.
We are a consolidated foreign language service center that handles every aspect of foreign language content delivery, with experienced project management and enterprise-wide integration of leading software tools. From brochures to interactive video presentations, from web sites to custom online multilingual content management interfaces, Technical Translation Services delivers streamlined solutions, cost efficiency and the highest level of quality in the industry.
Please take a moment to review our foreign language service offerings and learn how we can bring simplicity, efficiency, and cost savings to all your multilingual projects, from the simplest translation to the most complex multilingual information flow.